More Ice-Creams!
Long time readers of this blog will know that
licenced ice-cream items
, and Star Wars in particular, are my favourite vintage items. So imagine the smile when the images below came down the line from Queensland, a few
guerilla
"on-the-run" snap-shots of a collection of original art-work and related items that remains for the time being anonymous…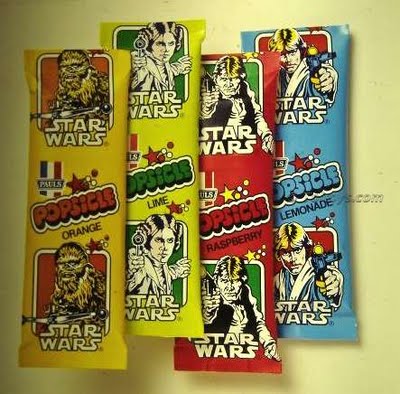 The
translite
above shows a great set-up of the four Star Wars
Popsicle
wrapper flavours. Han does not look pleased about being
Raspberry
….
The next image is another
translite
of the original art used on the front of the Peters /
Pauls
infamous
Jedi Jelly ice-creams
.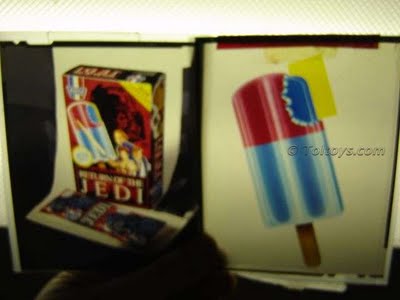 Followed by a hurried 🙂 shot of another major element of the box art, the actual ice-cream!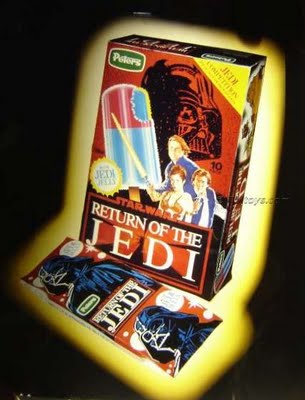 And a
translite
of the completed product and wrapper!
The final
translite
above is one I knew I'd seen many times, and after a quick search I found its final resting place (flipped) on the side panel of the Star Wars Popsicle box, see below…
The last two items are a real treat, a very tough poster and the complete sticker set of New Zealand Tip-Top Star Wars R2-D2 Space Ices…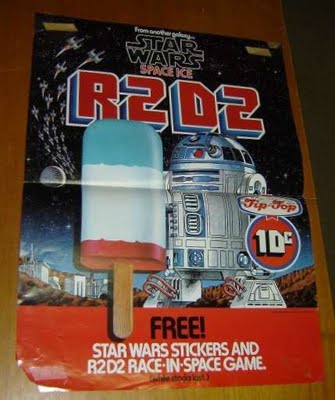 And the complete run of 16 sticker premiums…
I'm indebted to a very special
Toltoys
.com
contributor
from Queensland (who knows who he is!) for all of these great images, thanks mate!
Cheers,
Will