A great Australian Big Jim collection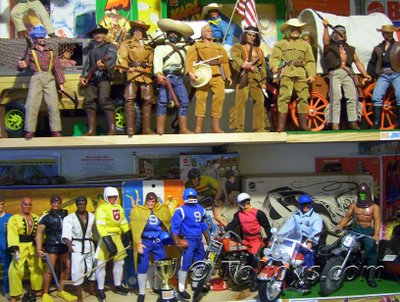 Check out this fantastic collection of Mattel Big Jim figures, vehicles and outfits from Aussie collector Willem Bos.
Willem started out with just his two remaining childhood figures five years ago, and has now built an enviable collection of over 60 figures, vehicles, outfits and ephemera.
There are so many highlights in these pictures it's hard to single anything out, but the western range and the P.A.C.K. figures and vehicles are a couple of favourites of mine.
The stand-out highlight for me though is the set of rare 1976 Australian Olympic Outfit Big Jims. The figures have unique green and gold molded trunks as seen in
this catalogue shot
, and three outfits as seen in the picture below. There are tough find even here in Australia, and I've yet to see a packaged example.
Thanks so much to Willem for sharing his collection with Toltoys.com!
Cheers,
Will