Treasures from the 1967 Lincoln International Toy Catalogue
The New Zealand toy company Lincoln International were responsible for some of the coolest licensed (and unlicensed) toys of the 60's and 70's. Best known for their 1966 licensed Batman range of
ray guns
,
water pistols
, friction toys and battery operated plastic vehicles, or perhaps for their goofy but highly desirable 1970's range of
Mego-Like 8″ Monster action figures
, Lincoln went in hard with Gerry Anderson licences in 1967.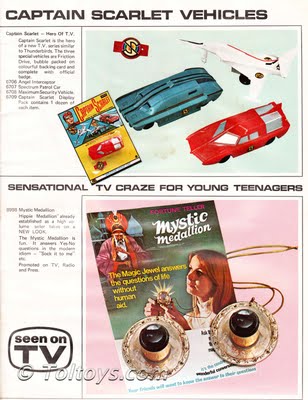 Captain Scarlet promised great things for those toy companies hoping to match the success of Dinky and their Thunderbird die-cast vehicles, unfortunately whilst popular the Captain never had the impact of his Anderson stable-mates.
Lincoln released three friction vehicles for Scarlet; The Angel Interceptor, Spectrum Patrol Car and Maximum Security Vehicle. Each was blister carded to a colourful but fairly flimsy card along with a plastic Spectrum Badge. The vehicles were packed flat on the cards, and the blisters were attached to the cards with staples. They are a tough find today loose or carded, I've never seen an Angel Interceptor in person but thanks to the diligent work of the
Australian Powerhouse Museum there is at least one example stored away in perpetuity
.
Much more common to find today are examples of Lincoln's Thunderbirds motorized kits. These must have been big sellers since they turn up quite regularly on eBay and at auction houses such as Vectis. The vehicles are OK, but it is the box art that steals the show on these, nicely rendered images with the designated number on the right front of the box.
There would be many Anderson Thunderbird collectors out there who would dream of finding a full counter display pack like the one above, to my knowledge though none have ever surfaced.
Cheers!
Will
PS – This catalogue is actually undated, I have surmised the 1967 date from the the lack of Batman items combined with the inclusion of Capt Scarlet and the Thunderbird kits, so it could be 1968. I'd love to hear about any other Lincoln material that may be out there, I'll post some of the toys mentioned above in a future post here at Toltoys.com