Two more Special Offer mysteries solved…
A couple of years ago on Toltoys.com we presented a feature on all the known
Star Wars Special Offer boxed toys
that had surfaced in Australia during the 1978 – 85 period. In the post below we were able to confirm that the Attack Base was a Waltons Department Store special offer and also list the contents.
This week I'm happy to reveal the origins and contents of two more mysterious special offer items, the Empire Strikes Back Wampa and Tauntaun. There is only one known example of the Wampa box, and only a cut front of the Tauntaun box.
Neither were found with contents intact, leaving it open to speculation as to which figures were included.
Now thanks to the discovery of the 1982 Waltons Wish Book we can confirm that these two were also Waltons Special Offers, and narrow down the identity of the figures included.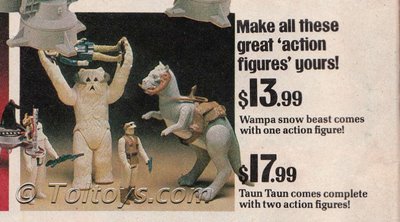 This is the ad for both items, and while we can confirm the price and the three figures included, I'm not sure we can say which figures came with which! The photo suggests that Han Hoth came with the Wampa and the other two with the Tauntan, but it could just as easily have been the Snowtrooper with the Wampa (Bad guys together?) and the other two with Tauntaun.
Until we find a sealed example let the speculation continue!
More reveals coming soon…
Cheers,
Will