More Star Wars from the 1982 Waltons Wishbook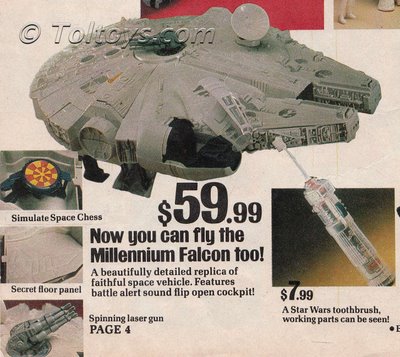 $60 was a lot for a toy in 1982, hell it's a lot for a toy today. Just as well then that you received one of the all-time great play-sets for your cash back in '82, the Kenner Millennium Falcon.
Walton's caption writers went off the deep end in this one, declaring the Falcon to be 'faithful', as opposed to all those other lousy cheating spacecraft one presumes. Dig the "Simulate Space Chess" – is the simulate really necessary? I mean even slow Darren from down the road gets that we're not actually playing real space chess here.
The keen-eyed among you will have already noticed the uber-cool Empire Strikes Back Electric Toothbrush labeled as a Star Wars one, a tough item to locate for collectors today. They were one of the earliest Star Wars toys so it's good to see them still around in 1982.
The last little reveals of this particular page are the fantastic AT-AT, still sold in the modern Hasbro line today, and the short lived but much admired
Micro Collection
, represented here by the Bespin environments. Comparing the prices of the Micro stuff with the creature / figure combos to their right gives some insight I think into why the line did not last. What would you have preferred as a kid? Micro Rob don't answer that 🙂
Finally we have the whole page on show, and what a treasure trove it has proved to be, solving the mysteries of the not one but three Toltoys Special Offer items, and throwing in rare ads for 3-Packs and ESB Toothbrushes just for fun.
I'll be continuing the Wishbook posts soon, but stay tuned for some other vintage toy coolness this week.
Cheers!
Will