Reversing the Toltoys diaspora – The Hulk returns!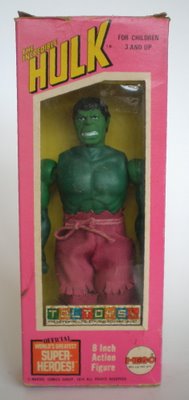 Thanks to the marvelous network that is the Mego Museum I was recently able to bring this Australian released Mego Hulk back home. He had somehow found himself in the unfamiliar climes of Italy, no doubt taking in the sights, sounds and tastes of Roma.
But like all ex-pat Aussies he eventually decide to return home, taking the natural route (via the Mother Country).

Mego World's Greatest Super Heroes are actually quite tough to find with the Toltoys distribution sticker, you more often see the Merry Men or even Wizard of Oz line carrying them.

Speaking of the World's Greatest Super Heroes, if you haven't picked up a copy of the new book World's Greatest Toys, what are you waiting for?

This is without doubt the best action figure collecting book I've ever seen. Beautiful photos, absorbing and insightful text combined brilliantly with intricately detailed information on each character's variations and packaging. Click the pic above to checkout some more sample pages of the book.
I'm sure that this hot potato this will sell out sooner rather than later so do yourself a favour and pick one up! You can order it through the link above or directly from Amazon.
Will