Star Wars Week on Toltoys.com!
One of the "must do's" when I started this blog was to eventually showcase a pic of every Toltoys logo Star Wars carded figure. So far I have been spectacularly unsuccessful with that, chalking up a grand total of none at all.

Well hold on to your potatoes kids, 'cause here comes some old school Toltoys logo vintage goodness! This week I will posting lots of shots of the much loved and highly sought after Toltoys variations in Kenner's vintage Star Wars line. Figures, playsets, creatures and more from 1978 to 1985 will make an appearance so check back often.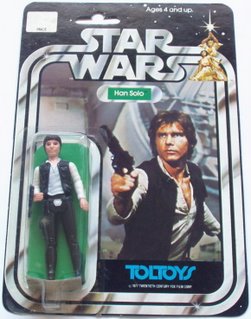 Today with thanks to a special Toltoys Star Wars collector who clearly has:
A. Better contacts than me
or
B. Deeper pockets
or
C. A deal with the devil
or
D. All of the above
I can bring to you the first batch of photos, lovely Toltoys 12 and 20 back carded figures.

The first 16 Star Wars figures were available on Toltoys logo cards. The original 12 were available on both 12 and 20 back cards, the four cantina aliens were available on 20 backs. The Death Squad Commander / Star Destroyer Commander was definitely released, I hope to be able to bring you a first ever pic soon! 🙂

You can usually tell if a card is a 12 back from the type of black background behind the Toltoys logo. Cards with a black panel behind the logo covering the entire lower front section of the card could be either a 12 or 20 Back. Cards with a small oblong black background have so far only been found on 12 back cards. See the Leia's above and below? That right there is what I'm going on about, definitely a 12 Back above, either a 12 or 20 Back below. Check out the Myer sticker on the Leia below too! A Melbourne (now national) shopping institution, and the source of many great childhood toy memories…. ahhhhh…


….Anyway, back to the script. There is disagreement on the question of whether the Toltoys logos are overprinted on Kenner cards or whether the cards were printed entirely by Toltoys. Hopefully I'll be able to answer that in a future post!

All these cards were sold at retail in Australia, New Zealand, Singapore and probably other countries in the Asia-Pacific in the late 70's and early 80's.
More coming over the next week, stay tuned!
Will
Special thanks to Brody Walker for today's photos and Dax for the cardback variation info.